Dear NTI Students:
Thank you for being so patient with the NTiLearn Admin team while we work through the site-wide forum issues we are all experiencing. Please continue to bring any technical issues to our attention by using the assigned support forum space within your subject. 
If the forum isn't working well, you can send a message directly via the little chat icon in the top right-hand corner of your NTiLearn page. Please be aware that staff are not notified of messages that arrive this way, only those that are posted within forums, so we apologise for any delays in responding to you.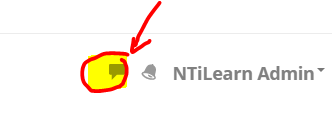 We will do our best to resolve your issues quickly and effectively!
Thank you from the NTiLearn Admin team.